Staff Philosophy
A well trained, enthusiastic staff is the key to a great retreat experience. We evaluate staff by their maturity, strong values, experience, enthusiasm, and ability to be positive to help create an uplifting environment. All staff members undergo extensive training, emphasizing safety, group development and so much more.
Potter's Ranch accommodates thousands of guests every year, with particular care for Special Needs, Mental Illness, Wounded Veterans, and more. We are certified, and for several programs a training facility for others to be properly trained from.
In addition to the full time staff at Potter's Ranch, we also have many more certified & highly skilled part time staff, seasonal staff and our gracious volunteer crew. All of which are needed to maintain our high standards in food, facilities and programs year round.
There is even opportunity for our campers who have gone through our Leaders-In-Training program to become Junior Counselors for summer camp when they graduate our program and turn 16, eventually earning the chance to become full counselors/staff when they become adults.
Our Full Time Leadership Staff
Potter's Ranch Director
Administrative Director
Maintenance Director
Equine Director
Activities
Facilities/Maintenance
Housekeeping
Food Service
Tony Vornberger

I grew up in Burlington Kentucky and graduated from Conner HS in 1985. Right after high school I joined the Army where I served almost 7 years. While in the Army I served half my time as a combat medic first in Korea then Texas. In 1988 the Army put me through nursing school and I served my remaining time in Washington DC at Walter Reed Army Medical Center. Most of that time was served on the Pediatric Ward. I met my Wife Debbie while serving at Walter Reed. It was love at first sight and we were married 4 months later. While I was still in the Army, my wife gave birth to our twin boys Brandon and Brian. After leaving the Army we returned to Northern Kentucky and I was hired on by Cincinnati Childrens Hospital. I worked there as a home care nurse for 16 years. In 1997 my wife gave birth to our daughter Tiffany. We currently attend First Church of Christ, Burlington. I am leading a Men's Life Group on Wednesday evening.
Aaron Barker

Aaron is a Northern Kentucky native who graduated from Simon Kenton High School in 1999. Throughout the years he has worked in youth ministry, training, customer service, sales and logistics and has been an itinerant evangelist preaching revivals and providing pulpit supply for nearly 20 years. Outside of the wonderful atmosphere and ministry provided at Potter's Ranch, Aaron also hosts a popular podcast entitled "The Breakdown." With nearly 10,000 show downloads in 2017 and thousands of unique monthly visitors at www.breakdradio.com, Aaron provides social and political commentary from a Biblical perspective with the Gospel in the crosshairs of every conversation. He has been married to Allison for 16 years and they have two beautiful daughters, Makayla and Bree. The Barker's attend Grace Fellowship Church in Florence, KY.
Randy Hamm

Randy is a graduate of Fleming County, KY High School. He and his wife Peggy have four daughters and one grandson. In addition to his regular responsibilities, Randy assists in several aspects of guest services and enjoys working outdoors. Randy and his family are members of Hebron Church of Christ where Randy is an elder. Hobbies include woodworking, fishing and watching Kentucky basketball.
JoEllen Mullins

JoEllen grew up on a small farm in Fort Wayne In, was a 4-H horse member for 10 years. She starting teaching riding lessons at 16 and worked summers as a horse camp counselor for Camp McMillan Girl Scouts. Then became the Equestrian Director of Red Cedar Center for Special Services, Fort Wayne, In. She was Show Chairman for the Fort Wayne Charity Horse Show for 5 yrs. She moved to Cincinnati after being offered the Equestrian Program Director position at YMCA Camp Kern and later became the Equestrian Director for their Year Round Equine programs. JoEllen was also the Equestrian Director at Dogwood Springs in Northport, Al. where she coached the University of Alabama Intercollegiate Equestrian Teams. She served as Board President for Ohio Therapeutic Horsemanship 501©3 for 2 years. JoEllen is married to Eric Mullins who serves the Ranch in several departments. They have 3 children and 3 grandchildren. Our members of the Eastview Baptist Church.
Eric Mullins
Eric grew up in Franklin Ohio is a graduate of Franklin High School. Eric worked in the Plastic Industry for 25 years before going back to College for his CNC machinist certification. Eric serves in several areas here at the Ranch, maintenance, team building, outdoor activities and water front as well as helps lead trail rides at the barn. Eric received his CHA Instructor certification and Life guard Certification to better sever the Ranch. Eric enjoys working with his hands, he and his wife have restored several houses and trained horses together. Eric spends his spare time fishing, hunting, camping and horseback riding. Eric is married to JoEllen who is the Equestrian Director at Potter's Ranch. They have 3 children and 3 grandchildren. They are members of the Eastview Baptist Church.
Carlin Adams
Carlin is a native of Boone County and is married to his best friend, Darlene. Carlin graduated from Conner High School and worked in the customer service field prior to coming to Potter's Ranch in June of 2003. Leisure activities include woodworking, outdoor activities, time with family and friends, good music, riding motorcycle and muscle cars. Carlin's varied skills allow him to provide a variety of services to Potter's Ranch including maintenance, construction and guest services.
Debbie Vornberger
I was born in Barberton Ohio and Graduated from Barberton High School in 1982. I served in the Army from 1982 to 1985. I was a Tactical systems operator and Mechanic while in the Army and served in West Germany and Hinesville Georgia. After leaving Regular Army, I served in the Army Reserves for a year as a dental technician trainee. From there I joined the Navy from the end of 1985 through 1990. While in the Navy I served In California, then Washington DC. In the Navy I worked as a sailor, public relations specialist, and photographer. I met my husband while serving in Washington DC. Shortly after having my twin boys Brandon and Brian we moved to Florence Kentucky. I received my Associates Degree in Paralegal Studies before having my daughter Tiffany in 1997.
Ted Griswold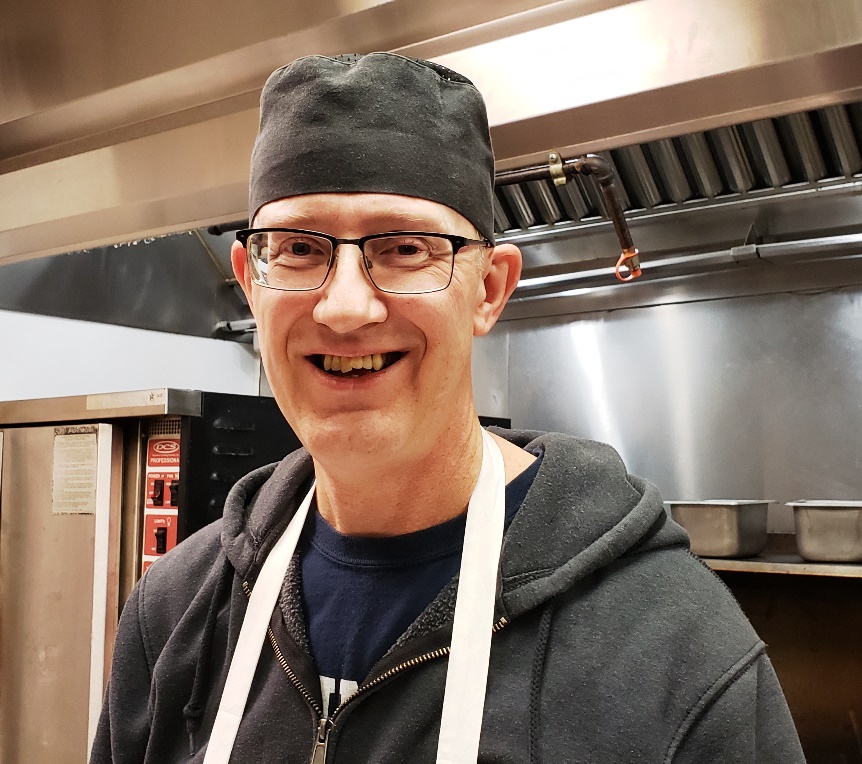 Having moved to KY from CT with his family after teaching music in public schools for thirty-one years, he was praying that he would find work in support of a Christian ministry. Some friends pointed him to Potter's Ranch and he began working there part-time, and soon after full-time. Ted has a heart for camp and retreat ministry, and has served in our food service, maintenance, activities, and housekeeping departments. His favorite thing about working at Potter's Ranch is seeing God at work when groups, families and individuals come to the ranch for a visit. Ted and his wife, Sharon, have two children - Megan, who volunteers at the Ranch, and Michael. Ted and Sharon are members at Grace Fellowship Church in Florence, KY.
Year Round Staff
Allison Barker - Housekeeping
Christina Lense
Tracy Maxwell - Range
Natalie Maxwell
Jessica Moorhouse - PATH Instructor
Sheila Nichols - Kitchen
Shawna Ogonek - Housekeeping
Veronica Pugh - Activities
Brian Vornberger - Kitchen
Volunteers Over 200 Hrs
Wendy Pearson - 500+
Rick Parker - Potter
Alysha Kittle
Megan Griswold
Summer Staff
Shelley Bartlett - Academic Staff
Isaiah Davis
Paige Dietz
Collin Gay
Holly Hightchew - Academic Director
Pam Hurless - Academic Staff
Alysha Kittle
Ella Lightner
Olivia Lightner
Gina Ramage - Academic Staff
Rachelle Schmitz - Academic Staff
Patricia Smith - Academic Staff
Mikayla Westerbeck
Board Members
Robert Lightner
Founder, Chairman & CEO
Wes Lightner
Vice Chair & COO
Jerry Delaney
Mike Stanaland
Dr. Raymond Pate
Chuck Vaughn