A perfect opportunity for those who are unfamiliar with, but fascinated by horses to get a close-up, hands-on experience that will be a life-long memory. You will have the opportunity to meet the Potter's Ranch herd, learn about the mannerisms of the horse and how they communicate, horse behavior, communication and their pecking order. You'll also get to groom the horse and learn to lead them! This activity is ideal for kids ages 2 years old to 90! (No riding during the Equine Experience)
Horse Day Camps and Field Trips
Let Potter's Ranch design a unique horse camp experience for your group. We can customize to fit your needs, whether you want the focus on riding, on general horse care and knowledge, or a combination of the two. You also have the option to include other Ranch activities. Length can be from a few hours to a full week, and can run from 9 am to 4 pm each day.
Q.T. pony pics - allows "You" to use our miniature Horses for your photo memories, we offer seasonal backdrops, themes and props to complete your Potter's Ranch experience or celebrate a Holiday, Birthday or Big Event!
Horsemanship Merit Badges
The Horsemanship Merit badge at Potter's Ranch is one of a kind. At Potter's Ranch we offer Horsemanship merit badge programs to fit your troop's adventurous side, whether it's just badge work sessions you require or a Ranch themed Horsemanship weekend, which includes sleeping in our teepees & covered wagons after a day of riding the trails, learning roping skills, or using a branding iron, we can design a Ranch Adventure your scouts will remember for a life time!
Experience a peace when riding at Potter's Ranch
Riding Lessons
Great for all levels of riding skills.
We offer the following year round (Scheduled on a weekly basis, same day and time each week).
Learn to ride and care for horses through private or small group lessons. Lessons are taught by a CHA (Certified Horsemanship Association) certified instructor. The disciplines offered are:
Western
Hunt Seat
Jumping
Trail class
Ranch trail riding
Beginner thru Advanced in all disciplines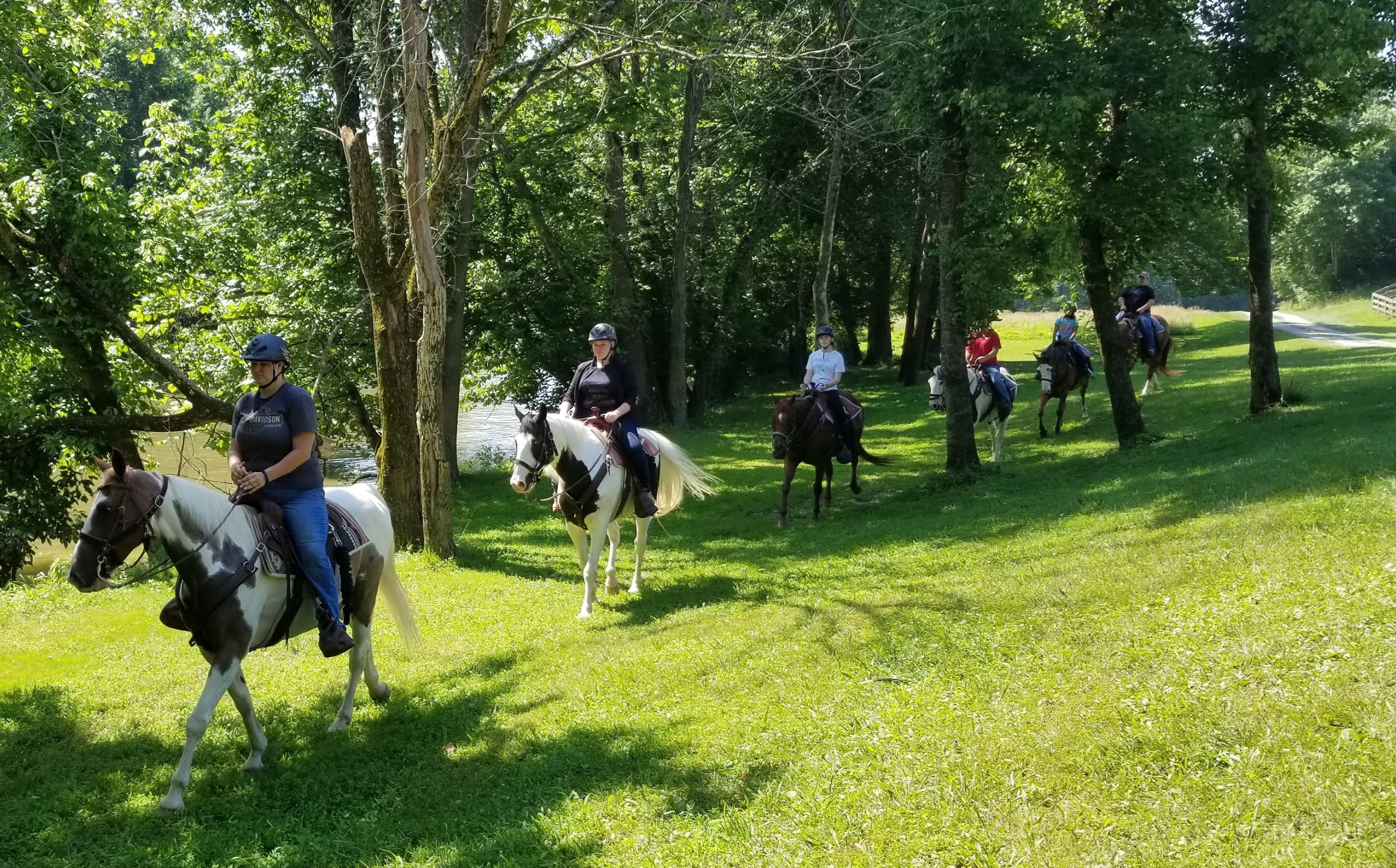 Trail Ride
Perfect for first time or beginners just starting to ride.
Let our wranglers take you on a guided ride through the woodlands and meadows of Potter's Ranch. Our basic ride includes brief riding instructions and is walk only, geared to the first time or beginner rider. The ride is one (1) hour which includes time to get mounted, receive instruction, ride on the trails and dismount when returned.
Our Wrangler led trail rides will allow you to enjoy all the sites of the Ranch on horseback. Our walk only rides will take you along Gunpowder Creek, through woodlands trails and the peaceful meadows of Potter's Ranch. Riders 9 years old and up will receive riding instruction before heading out on the trails. Trails are one hour in length - mounting/dismounting & instruction included in that hour time. If an hour isn't long enough, ask about our 2 hour rides or our picnic lunch and steak dinner rides!
Arena Rides
Helps transitioning in an enclosed environment before heading out on the open trails.
Arena Rides are an opportunity to ride in an enclosed arena rather than out on an open trail. Arena rides are limited to walk only and under the supervision of our Ranch Wranglers. Participants will learn basic start, stop and steer of their horse. These are meant as a one-time event for riders more advanced than a lead ride but not ready for an open trail ride, not to take the place of weekly riding lessons.
Pony Rides (Lead Rides)
Simple and easy, always being hand led.
For those who are unsure of riding on their own but want to spend time with the horses, we can arrange a special time for you. Riders can enjoy a short ride aboard one of our horses led by a wrangler. This is an option for riders too young for trail rides. Children ages 4 and up can enjoy this experience. Children under the age of 16 must be accompanied by an adult.
Potter's Ranch Riding Center has assisted children, youth, and adults with a vast array of physical, mental, and emotional challenges to improve their lives through the innate therapeutic qualities of a horse. Adapting each of our TR programs to the needs of the participant, we have had grief counseling, psychotherapy and reunification, addressing anti-bullying, just to name a few. Often taking them through our sensory trail and obstacles that are used for teaching as well as being therapeutic.
The horses natural movement engages the human body in a manner that simulates walking. It is not uncommon that a student who has mobility limitations before riding will show improvements in their ability to ambulate after their lesson due to the improved core strength and flexibility derived from riding their horse. Whereas physical therapy in a room may be a chore, riding becomes a treat. Students have an opportunity to work on life skills, concentration, following directions, and working with others through horseback riding skills. Students are able to progress and increase in their knowledge of horsemanship skills through their participation in lessons. Students look forward to riding their special four-footed friend and working with their dedicated volunteer each week during their eight week session.
---
Horses for Heroes
An Equine-assisted activity and therapy program tailored to address specific issues faced by wounded and traumatized military personnel who have served our country. Through this program Potter's Ranch offers peace, self-confidence and physical benefits without judgement. While also providing a supportive and therapeutic environment for their families and loved ones.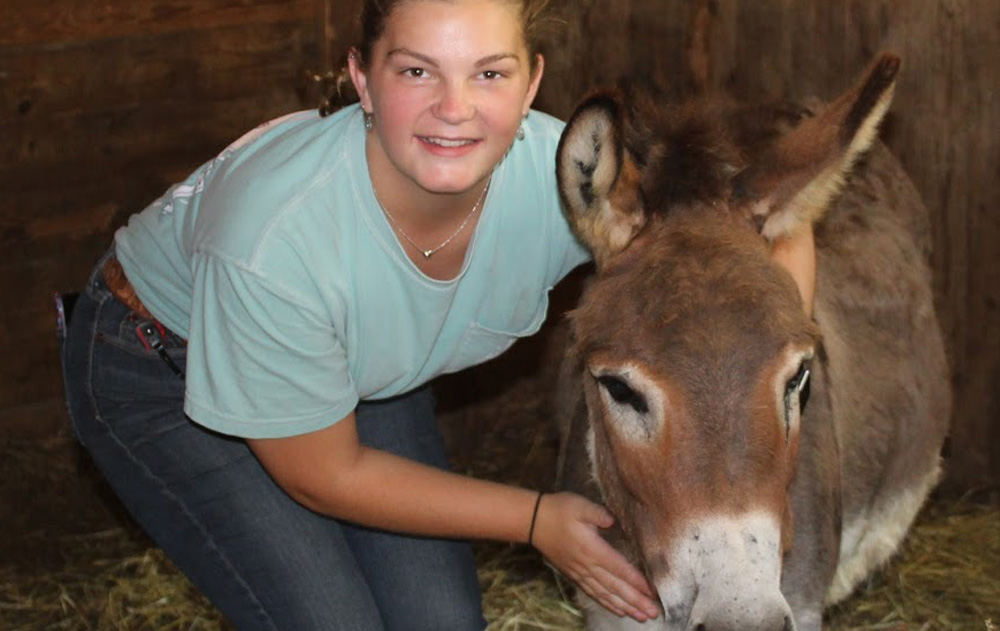 ---
Horses of Hope
A program that uses interaction with horses to offer Women of all ages an opportunity to restore trust, self-esteem and self-confidence within themselves as they learn both horsemanship skills and unconditional love from our equine. This program also offers a new way for them to connect with themselves, process their emotions and explore behaviors that have become problematic in their day-to-day lives.
---
Equine Assisted Learning
Equine Assisted Learning is a different approach to facilitating teambuilding, leadership development, and personal growth. Participants engage in a variety of unmounted activities that focus on achieving a goal with a selection of equine companions. Groups use their behavior to manipulate horses through a set of obstacles, allowing them the opportunity to gain a better understanding of their own communication and team dynamics..
---
Servant's Heart
Over the years we have worked with different foster care homes to provide weekly equestrian activities, and therapeutic experiences that has proven to be extremely positive for everyone involved. One foster care group in particular comes to the Ranch regularly to complete service projects and be taken under the wing of our Potter's Ranch staff and volunteers. Projects change each day to offer a variety of work skills while giving ample time to mentor a child, pouring kindness and love into them that they so desperately need. Their efforts are then rewarded with fun activities like ziplining, or teaching them pioneer skills to build a campfire they will cook their lunch on, playing gaga ball, fishing, or enjoying one of the many other activities offered here at Potter's Ranch.
---
Barnyard Buddies
A program that Buddies-Up our Barnyard animals with at-risk individuals to learn animal care, herd dynamics as well as experience the responsibilities of Farm Chores. It provides teens with a unique opportunity to learn about themselves and others through caring and interacting with Our Barnyard animals. Upon completion, they process their feelings and recognize behaviors and patterns. They develop leadership and team work skills, and build confidence and healthy attitudes.
---
Pony Pals Program
Pony Pals is part of PRRC TR lessons in which children can read to their real live "Pony Pals". Our Miniature horses Nera & Lux (are full sisters) love to listen as children read in a horse friendly atmosphere in order to improve their reading comprehension and increase their self-esteem in a non-judgmental environment.
---
4H Riders
Children ages 9-18 years old who live in Boone County are welcome to join our 4-H horse club. We have monthly meetings at the Ranch working as a club to learn more about horses and prepare for the 4-H fair. Even those who don't own a horse can join, as Potter's Ranch offers a lease program so everyone gets to learn & enjoy the responsibilities of owning & showing a horse.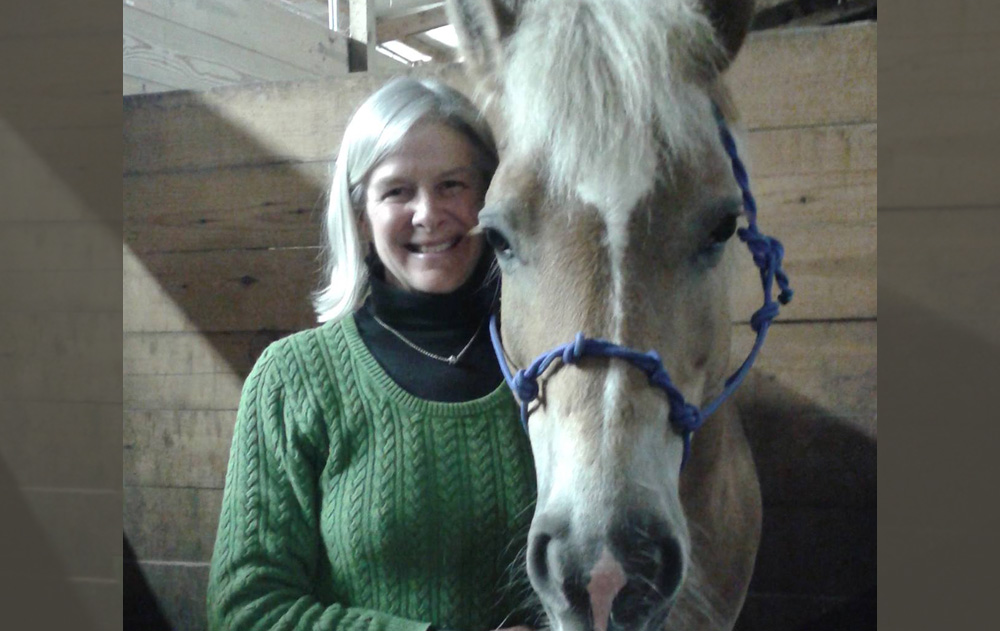 ---
S.A.L.T. Riders
S.A.L.T. = SENIOR ADULTS LIVING TRIUMPHANTLY (OUR SENIOR RIDERS OVER 55) Our goal in the SALT Riders Program is to improve overall strength, endurance and flexibility. Lessons are focused on partnership with the horse through the use of horsemanship principles, which increases students' range of motion, endurance and core strength. Our riders spend time grooming and tacking their horses, learning horsemanship, and having great social time with other horse-loving seniors.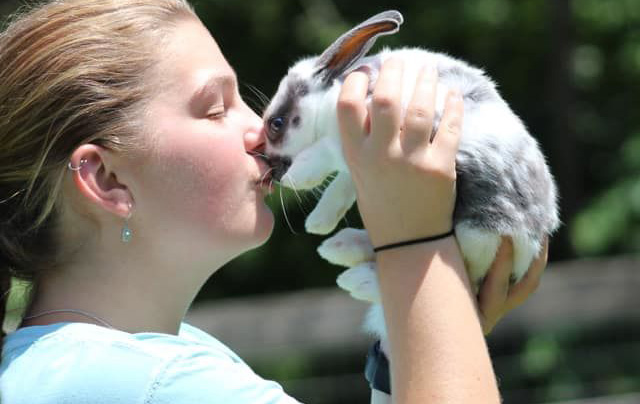 ---
Petting Zoo
We offer a farm animal petting zoo experience that is not only hands on but educational and fun! Participants spend an hour learning about each animal and their use. They identify the animal tracks, learn about herd dynamics and feeding, health & care. Once they have spent time learning about our farm animals we play the "Little Red Barn" game to test what they learned. Our Petting Zoo is open for school field trips, Birthday parties, home school groups and guests visiting the Ranch.
---
Potter's Ranch Praise Riders
Our Volunteers here at Potter's Ranch get the opportunity to work their way up through our tier levels to earn a spot on our all Volunteer Mounted Drill Team. Each October our Praise Riders perform for our Annual Fundraising Event-Our Potter's Ranch Round-Up! The Praise Riders performed drill team patterns to songs like "Nobody" by Casting Crowns and "Reason" by Unspoken. Our Volunteers can earn riding lessons, trail ride guide positions, spots on the drill team and even the opportunity to clean stalls!
Join us
.